Our Curriculum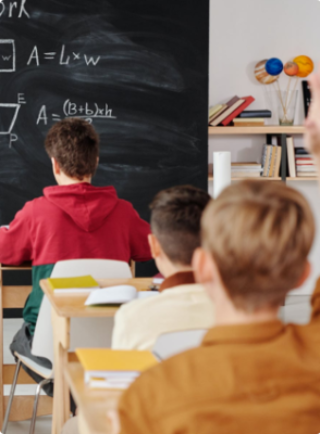 Here at Thames British School we are proud to offer a broad and stimulating curriculum to all our students: from Pre-Nursery, all the way through to the Cambridge International AS/A Levels, courses and careers programme in Years 12 and 13. We are exceptionally proud to be a leader at the forefront of curriculum development both in Spain and internationally. Our curriculum is firmly rooted in providing each child, at each stage in their development, with meaningful and innovative learning opportunities.
We fully understand that English is unlikely to be the first language of our pupils. Therefore, we closely monitor and develop our pupils' English language skills, while also creating an immersive and fulfilling educational program, closely aligned with the English National Curriculum. We endeavor to provide learners, whatever their background, nationality or age, with vibrant, creative learning environments that encourage, challenge and stimulate curiosity and interest.
Early Years Foundation Stage
Our Early Years Foundation Stage curriculum sets standards for learning, development and care of children from the ages of 2.5 – 5 years old. The EYFS framework supports an integrated approach to early childhood learning and care. It provides all professionals – teachers, educators, carers – with a set of common principles and commitments that ensure quality of education and pre-school care for all children.
Key Stage 1-2: Primary
Years 1-2 (Ages 5-7)
In our pre-school, our philosophy is to foster an intrinsic love of learning. We lay the foundation for the academic and social skills that will be developed throughout your child's school career. Through the provision of a rich, diverse and exciting curriculum, our students develop into well rounded, confident learners who are given a rich array of opportunities to question the world around them.
Years 3-6 (Ages 8-11)
In Key Stage 2, children build upon the solid foundations laid in Key Stage 1, carefully guiding and encouraging our students as they begin to explore a broader range of topics. Learning activities provide the platform and structure for pupils to develop their questioning skills, enabling them to research and investigate topics with greater precision and complexity, and develop skills in both collaborative working and independent study. This is the first stage of our Cambridge curriculum – students beginning to reap the benefits of this internationally renowned program of study and assessment.
Key Stage 3: Lower Secondary
Years 7-9 (Ages 12-14)
In Key Stage 3, our Cambridge Lower Secondary curriculum provides provision for 10 subjects including English, mathematics and science. Students are taught and assessed through the International Cambridge program, alongside the Polish National Curriculum, giving students the opportunity to graduate with both local and international qualifications. We are careful in ensuring that there is a natural progression from primary education, helping to equip students with the knowledge and skills needed for the post-14 education programmes that lead to formal qualifications.
Key Stage 4: Higher Secondary
Years 10-11 (Ages 15-16)
Year 10, the beginning of Key Stage 4, marks the start of the challenging and stimulating two year International General Certificate of Secondary Education (iGCSE) journey for our students, transitioning seamlessly from Year 9. The curriculum offers a variety of routes for learners into higher education, including those whose first language is not English. Students choose options based on subjects that they excel in and feel most passionate about, thereby paving the way for the International Baccalaureate Diploma Programme – and challenges of this higher learning curriculum.
Key Stage 5: IB Diploma Programme
Years 12-13 (Ages 17-18)
Our IB Diploma programme, offered to students in Years 12-13, is an intensive transitory phase between high school level education and the demands of higher level independent learning at university. Throughout the program, students are assessed internally; subject teachers continually assess students' understanding of the content of each course, and provide detailed, constructive feedback at every stage of the process. Assessment tools range from traditional tests and essays to one-on- one meetings. The course takes two years of study and finishes with students sitting external examinations at the end of the programme. Universities across the world will take these results into consideration, along with IB certification, when choosing candidates for their programmes.
Equivalence Chart
Key stage in national curriculum
Early Years Foundation Stage
Early Years Foundation Stage
Learn more
We are always delighted to hear from prospective parents that are considering our international school for their children's education. Please do not hesitate to call us on the phone number above or select from the options below:
Note: As an international school we conduct admissions placement all throughout the year. Applications for the academic year 2021-2022 are for children in Nursery (2.5 years old) through to IB (19 years old).