Ochota Campus
Katie Street
Academic Head - Ochota (Wawelska) Campus
Qualifications:

BA Psychology & US Studies, Liverpool University;
CELTA, Cambridge;
PGCE, University of East Anglia; MEd, Open University,
NPQH.
Professional background:

I began my experiences in formal teaching as a teacher of English as a Foriegn Language in South Korea, where I was part of a team establishing a new language school. My subsequent EFL experiences took me to Thailand, Poland, Italy and Mongolia. During that time, I taught a variety of ages for a range of purposes, including tourism, industry and exam preparation.

I extended my training to enable me to teach Primary children and completed my induction in a small town in Norfolk, UK. I took my learning and experience to lead a teacher development and training programme focusing on implementing active learning techniques in Ethiopia.

I taught in international schools in Romania, Germany and Egypt before returning to Poland to teach at the British School. In September 2019 I led the team that opened Thames' Piaseczno campus. Following the successes with the implementation of the curriculum in Piaseczno, I transferred to Wawelska as Head of Primary Curriculum.

About me:

I enjoy exploring my world through a range of interests. I enjoy cycling in and around Warsaw and swim a few times a week. I love experimenting with colours and materials and enjoy painting and making clothes. I also enjoy playing games such as carom, backgammon and scrabble. The world is full of learning opportunities and I have enjoyed a range of free courses offered online.

My teaching philosophy:

I believe enjoyment is central to learning and I provide a range of activities for children to explore their ideas. I see my role as a teacher as facilitating opportunities for children to express what they want to find out, how to find the answers to their questions and to compare answers to draw their own conclusions. I value mistakes as golden opportunities for learning. I encourage children to question their own assumptions and try to understand the reasons for perspectives that differ from our own. I believe that communication and collaboration are essential life skills and lead to success for both the group and the individual.
Mokotów Campus
Christian Rosser.
Academic Head - Mokotów Campus
Qualifications:

Bachelor of Arts in Education with Qualified Teacher Status (Honours).
Professional background:

Teaching has always been my professional passion. I qualified as a teacher at Bath Spa University College in the UK, specialising in infant education. I continued teaching in the UK for 12 years, primarily teaching Year 1 and 2 children. Moving to Poland 9 years ago provided me with my first opportunity to teach infant children in an international setting, and a great opportunity it turned out to be. Entering my 22nd year of teaching I am excited to be part of the Thames British School community moving forward.

About me:

Having grown up in Wales, rugby has always been a passion of mine. Although I no longer play, I still enjoying watching and supporting my home nation. When I am not in the classroom, I can often be found playing pool with my family and friends, relaxing on a cycle ride and enjoying some of the wonderful towns and cities around Poland.

My teaching philosophy:

When I think about my role as a teacher, the one thing that I have always focused on is the relationships that I have built with my students. I enjoy talking with them on subjects and issues that are important to them, and learn how they are feeling about and experiencing the world and what we are learning in class. I want my own classroom to be less of a class and more of a community, where we are all sharing ideas and communicating and learning from one another at the same time.
Włochy Campus
Katarzyna Wiśniewska
Academic Head - Włochy Campus & Head of Lower Secondary
Qualifications:

M. A. English Philology, University of Warsaw.
Educational Management, University of Social Sciences in Łódź.
Methodology of Teaching English, Warsaw High School of Applied Linguistics.
Qualified Teacher Status (QTS) awarded by the Teaching Regulation Agency, England.
Teaching philosophy:

I believe that combining my experience as a school teacher, university teacher, interpreter and administrative leader has enabled me to develop a thorough understanding of the educational field, students' and parents' needs, as well as growing my own pedagogical, management and communication skills. I love seeking novel and innovative solutions in order to benefit and develop all school community members. I am thrilled to continue my lower secondary teaching and leadership position that began in 2015 at the International schools, and, as of academic year 2020/2021 - at the Thames British School.
Jessica Wrbka
Cambridge Coordinator
Qualifications:

BCom, University of Pretoria
PGCE - Senior and FET phase, University of South Africa
Certificate in Mathematics - Further Education and Training, University of South Africa
Professional Background:

Teaching was not where I thought I would be in my adult life. I initially did my business degree before I even considered teaching. As the years went on, I realised that teaching was the only thing that would make me happy. I started my teaching career about four years ago in South Africa. I taught Accounting, Economics and Business Studies in two different high schools.
During my time teaching, I realised there was a need for more Mathematics teachers. This allowed me to use my love for mathematics in a positive way, which led me to do my certificate in FET mathematics,opening many doors to new opportunities. One being the honour of teaching in Poland at Thames British School.


About me:

I am an avid reader and often find myself getting lost in a good book. I thoroughly enjoy spending time with friends and family and seeking new adventures. One of which would be traveling to new places and experiencing new cultures, traditions and meeting new people. I enjoy taking part in sport, such as netball and swimming, and love embracing my South African and Portuguese heritage.


Teaching philosophy:

Describing my teaching philosophy is difficult as I would say that I do not only focus on one or two things. However, if I had to choose my main idea or belief it would be that teaching is not about instilling knowledge only, but also wisdom. What I mean by this is, I strive to teach my students confidence, accountability and honesty. Through good relationships and loving actions, children have the wisdom and understanding of what it means to be a good person and act in a way that is wholesome and caring. I believe that the actual subject content that they learn is an additional perk, rather than the main objective.

Load more
Piaseczno Campus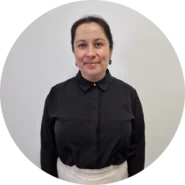 Monika Chwesiuk
Academic Head - Piaseczno Campus
Qualifications:

BA, College for Training Teachers of English, Warsaw University; MA, Institute of Applied Linguistics at the Glottodidactics and Translation Studies, Warsaw University - absolutorium; Postgraduate studies, Organization and Management of Education; CELTA, Bell Schools; QTS certificate awarded by the Teaching Regulation Agency, England.
Professional background:

I began my teaching experience in a Language School in Warsaw in 2008, while I was still working on my BA. I was teaching groups and individual students at different levels, young learners and teenagers, as well as adults. I have created my own course programmes for one-to-one classes and groups of students. I have also been responsible for creating my own teaching materials. Next, I became the methodologist of the school and was responsible for resources and course programmes, as well as supervising other teachers' work.

I have taught English during summer school in England: Bath, Oxford and London.

My teaching philosophy:

In class I like working using methods such as TPR and communication method - Communicative Language Teaching, Community Language Learning, Cognitive Code Approach, Comprehension Approach, Content-Based and Cooperative Learning. These methods work well with students of all needs: auditory, visual and kinesthetic learners as well as a variety of multiple intelligences.
Marvin Deahan
Head of Secondary
Qualifications:

BA (hons) English Literature and Modern History, University of Salford TEFL, Leeds Metropolitan University PGCE, Manchester Metropolitan University.
Professional Background:

I completed my first year as a secondary teacher in a large school in Berkshire, England. I have also taught at various other secondary schools in England. Additionally, I taught English as a foreign language in Japan and Czech Republic, and worked at a private school in Turkey. I spent more than a decade working at another large international school in Warsaw, teaching English from Year 7 to Year 13, as well as teaching Global Perspectives and being an Exams Officer.

About me:

I enjoy playing and watching football, and in the spring and summer I like to go on cycle rides. I like all kinds of literature, as well as listening to BBC Radio 3 and rock music. I also enjoying travelling to new places to discover what they have to offer. One of my ambitions is to improve my Polish as much as possible, although this is taking some time to achieve!

My teaching philosophy:

I try to ensure my students are engaged with their learning, and I aim to enable them to fulfil their creative and intellectual potential through a variety of classroom activities, from individual tasks to more group-orientated exercises. I also believe it is important that each student develops holistically through their education, as well as academically.
Beata Luniak
Head of Primary
Qualifications:

MA degree in Theoretical Linguistics
BA degree in Applied Linguistics
QTS, Department for Education, United Kingdom
Professional Background:

I undertook my teacher training programme at the University of Warsaw in 2014. During the last year of my MA studies I worked as an English teacher in one of Warsaw's private language schools. Upon completion of my studies and teacher training, I decided to move to London to develop my professional skills and broaden my horizons. I was awarded Qualified Teacher Status in 2016. Having had the opportunity to work in a diverse range of school settings, with pupils from different cultural backgrounds, has helped me to grow enormously as a teacher. In 2017, I was offered the position of Reception Class Teacher at a primary school in Hampstead, London. The time I spent here was of immeasurable benefit to my skillset; I learnt how to implement a wide range of teaching strategies and gained a deeper understanding of the foundations of learning, upon which a good education is built. I returned to Poland in 2020 and started a new role at Swietokrzyskie In-Service Teacher Training Centre in Kielce, Poland. I specialised in bilingual education and was responsible for helping teachers to develop and enhance their knowledge and teaching practice. All of these experiences have taught me that being amongst a classroom full of enthusiastic young learners is where I belong. It is my wish to work in a school which places genuine emphasis on emotional, creative, and intellectual development. I am confident that I can achieve this ambition at Thames British School.

About me:

Originally from Kielce, I enjoy nature and spending time outdoors. I love swimming and cycling. I have a huge passion for reading and I always try to inspire a love of books, reading and storytelling in the children I teach.

Teaching philosophy:

I believe in a creative cross-curricular approach to teaching, where children are exposed to making meaningful and innovative links. Whilst I enjoy using my creativity to inspire and motivate my pupils, I place their ideas as upmost priority and promote child-initiated learning where possible. I endeavour to provide challenging, fun activities across the prime and specific areas of learning and development, which give children opportunities to explore and learn in their own ways. Academically, I take great pleasure in helping pupils to understand that the way in which you arrive at an answer is the real key to success for securing a deeper understanding of a concept. I enjoy engaging children in discussions about books, as well as encouraging different ideas and opinions. I particularly enjoy delivering P4C (Philosophy for Children) sessions, as well as teaching problem solving and puzzles where the children have to build upon their higher-level thinking skills alongside their resilience, which I believe are essential for a successful education. I have high expectations of my pupils' attitudes and behaviour and consistently encourage independence, confidence and responsibility.
Park Szczęśliwicki Campus
Agnieszka Makulska
Academic Head - Park Szczęśliwicki Campus
Qualifications:

BA-Hons English Language & Literature with QTS - University of Central England in Birmingham, United Kingdom, with one year ERASMUS programme at Leopold Franzens Universitat, Innsbruck, Austria
Post Graduate Certificate in Education - Primary (PGCE with QTS) – University Of East London, United Kingdom
Professional background:

In 2005 I started my teaching career at Benthal Primary School, London. Leaving behind a successful career in the city, I had worked both in advertising, working freelance producing commercials, and for dot com start-ups as a customer service manager/marketing assistant. I was looking for something more fulfilling and I certainly found it. In fact, I found something altogether more challenging that has kept me happy and busy right up to the present day. I have grown immensely over that period and am happy to say that the message I convey to children "you never stop learning" is just as true for us as adults as it is for children. I believe it's what keeps me on my toes and always looking out for ways to improve.

About me:

I really enjoy cooking (and eating) and have also worked as a food stylist. Did you know that many of the foods you see in magazines are not edible? For instance, most ice creams are actually mashed potatoes mixed with food coloring! I also have a keen interest in Politics and have done a speech for the Teachers' Union in front of over 3000 people. Quite terrifying but a great experience and very uplifting.

My teaching philosophy:

I have a high standard and expectation of the learning environment in my own classroom, ensuring it is first and foremost for the children and is an example of good cross-curricular practice. I am committed to working towards child-centered creative environments that produce improved results and happy children that want to discover the world for themselves and by themselves, with a little support from us, staff, and parents, when we work together we get the best results.
Mokotów High School Campus
Aldona Ponikowska
Academic Head - Mokotów High School Campus
Qualifications:

MA in English Studies, Catholic University of Lublin, 2001
English language examiner, Polish Matura Examination Board, 2002
Postgraduate Degree in Business and Management, Illinois University, 2007
IB Diploma Programme Coordination, Berlin, 2011
IB DP Certificate in TOK teaching, 2017.
Professional background:

Certificate in Educational Leadership, 2020
Designated Safeguarding Lead, 2023

Appointed Head of High School in 2019 and Head of Campus in 2020, I have dedicated my career in secondary education to advancing the mission of state and independent schools.

I received my Master's Degree in English Studies and then pursued my postgraduate degree in Business and Management from Illinois University. After spending eight years teaching English to ESL students, I was excited to expand my role as Head of English Department, then, IB Diploma Programme Coordinator and a Theory of Knowledge teacher. All the roles gave me fantastic opportunities to collaborate with diverse groups of people to meet common goals of ambitious international curricula.

Educational philosophy

My educational philosophy is based on the belief that all students can learn, given a positive learning environment, strong and knowledgeable leadership, committed teaching staff and a supportive family.
While teaching, I am excited to create a love of learning and exploring knowledge in students. My aim is for the young people to achieve their full potential studying in an inspiring and engaging environment in which they can grow intellectually, socially and emotionally. I would like them to develop positive character traits that reflect all values of the international and national curricula offered at Thames British School.
I also ensure that the school environment is one of motivation, support and commitment for the academic staff and personnel. I encourage the community's adherence to school expectations, excellence of performance and good relationships.

About me

I am a mom to two wonderful boys who give meaning to my life. I usually spend my free time in an active way exercising, cycling, sightseeing, hiking or skiing in winter. However, a good psychological thriller can keep me engrossed in reading for hours.
Arkadiusz Głowacz, PhD
IB Diploma Coordinator
Qualifications
MA in Geography, University of Lodz
PhD in Geography, University of Lodz
Postgraduate studies in Geoinformation, University of Lodz
Professional background
Having graduated from the University of Lodz, I started teaching geography in 2005. A year later
I embarked on a great educational endeavour in the IB Diploma Programme. Consequently I gained a substantial experience in the British curriculum in an international school in Lodz. Apart from being a teacher, I also worked at the University of Lodz as a researcher. The main focus of my research was the social role of geography education in Poland, England, France and Germany. I have published more than 20 scientific papers and one book, in which I presented the main findings of my PhD thesis. Moreover, I am an author of several geography textbooks for primary and secondary schools, teacher`s handbooks, syllabi and other teaching resources. When it comes to my current area of interest, I am particularly keen on the implementation and application of the Geographic Information Systems in education.
I joined Thames British School in February 2022 and took over the role of an IB DP Coordinator a few months later.

About me
I live in the suburbs of Lodz together with my wife and three wonderful children. I love spending time hiking and visiting places away from the tourist honeypots. I am very lucky as my hobby is closely related to my job. My motto is: The unknown and fascinating world starts right around the corner.

Teaching philosophy:
The role of a teacher is not to enlighten young people but to facilitate their own learning. On a day-to-day basis I encourage my students to set their own goals and to do their best to succeed. At the same time I would like them to become reflective individuals who care about others and the planet.
Izabela Ryzak
Deputy Headteacher Pastoral at Mokotow High School / Cambridge IGCSE Coordinator
Qualifications
National Professional Qualification in Senior Leadership NPQSL , University College London (UCL)-Currently studying
PGCE with QTS, Middlesex University
BA in Management and Marketing, specialising in Human Resources Management, The School of Management and Banking
Postgraduate Diploma in Administration in EU, The School of Management and Banking
Designated Safeguarding Lead Level 3, The Safeguarding Alliance
Professional background:
I started my professional career in management roles in London. I got an opportunity to put my business, management, marketing and finance knowledge into practice. I've grown as an individual and acquired experience and connections in the business environment. I realised that I would like to share those experiences with young adults creating an uplifting yet informative environment for growth and development.
I completed the PGCE Secondary in Business and started my teaching adventure in 2014 and since then I have been teaching all possible business curriculum, including A-level, GCSE and BTEC at both KS4 and KS5. I quickly realised that to deliver the best teaching and learning practises I should be familiar with exam criteria as this allows me to teach my students exactly what is required for their academic success and therefore opening the doors to further development.
I became an examiner for the exam board and standardised and marked all the possible business exams for that exam board. This took me from examiner to expert and examiners team leader, which allowed me to even deeper understand the whole exam procedure and standards setting.
As my initial idea whilst coming into teaching was wider student development and ability to open doors and minds of my students, I took on another role within my school which was an Enterprise Coordination with responsibility for external links. In this role I created and managed internal and external business-related activities across the whole school. I was working with a number of business partners creating talks, mentoring programmes as well as business visits and entrepreneurship opportunities for my students.
Last year I arrived in Poland to continue my teaching journey with international and Polish students in mind. My career, vision and passion has stood out and this year I'm continuing my journey at Thames British School as the Deputy Headteacher Pastoral, sharing my vision of 'Focus creating reality' and strong belief in multi intelligence and success for all. I believe that creating a structure where we look at every student as a unique individual, and hold a space where they can feel seen and safe, can create a change in our students' future aims, ambitions and academic achievement.
About me
I'm very passionate about personal development and lifelong learning, this often means that I get onto a new path and create some new and interesting outcomes to widen my horizons.
Adventure and spontaneous trips and activities bring me happiness and joy, the most risk-taking activity I have completed recently was skydiving from 13000 ft over the ground.
I like being active but also having slow and relaxing time with my friends and family.

My teaching philosophy
I believe in multi-intelligence and I'm having a 'success for all' agenda. We all have unique gifts and talents and show ourselves differently in the world. This only means that there is space for all of us to create a successful life if only we can allow ourselves to become our true self. Based on those values my teaching philosophy is hugely based on relationship building with my students, parents, and community to create an environment where students can feel safe and therefore can grow personally and academically as a whole person.
Learn more
We are always delighted to hear from prospective parents that are considering our international school for their children's education. Please do not hesitate to call us on the phone number above or select from the options below:
Note: As an international school we conduct admissions placement all throughout the year. Applications for the academic year 2023-2024 are for children in Nursery (2.5 years old) through to Cambridge A/AS Levels and IB DP (19 years old).